The 2010-11 DePaul season ended earlier than any fans would prefer, but the off-season following proved to be one of the busier in recent memory. A lot of the activity can be contributed to Oliver Purnell and his staff working to restore DePaul's legacy, but there was also a string of unlikely events. On the eve of Blue Madness and the 2011-12 basketball season, lets take a look back at what has happened since March Madness.

Off-season timeline
Click to Enlarge

Billy Garrett Jr. Commits
April 7, 2011
– 2013 combo guard Billy Garret Jr. from Morgan Park and Mac Irvin Fire AAU Team committed to DePaul. The commitment was not a surprise, as Garrett is the son of DePaul assistant Billy Garret Sr. The following outcome of Garrett's commitment shocked most DePaul fans. At the time of his commitment Garrett's name was just beginning to become popular amongst national recruiting analyst. After a monster Peach Jam, where he averaged 17.3 points per game on 50% shooting, he quickly moved up the national rankings. Garrett currently ranks between 45-75 on Scout, ESPN, MaxPreps, and Rivals, and will be an important piece in restoring DePaul.
April 17, 2011
– After an earlier decommitment from Braeden Anderson, DePaul needed additional help in the frontcourt. The staff worked hard identifying potential targets, and Clemons name began to emerge. After a visit to the Lincoln Park campus, Clemons quickly committed without making any additional visits. Clemons hails from Baltimore, Maryland and spent a prep year at MACK academy. He also on the same AAU team, Cecil Kirk, as current Blue Demon Cleveland Melvin. Clemons should provide some frontcourt depth and rebounding proven by his play during the team's trip to France.
Michael Bizoukas, Eric Wallace, and Devin Hill Transfer
April 21- June 13, 2011 –
When Oliver Purnell took over DePaul he made it a point to everyone on the roster that they would have to earn their scholarship. The result became evident this off-season as Bizoukas (Missouri State), Wallace (Seattle University), and Hill (Loyala-Chicago) transferred. Bizoukas and Wallace are immediately eligible to play for their new programs, and Hill must sit out one year.
Postorino Departs, Farrell Promoted, and Fleming Hired
May 12, 2011
– Director of Basketball Operations Josh Postorino left the DePaul program to return south as an Assistant Coach on Brian Gregory's new staff at Georgia Tech. Speculation arose about Postorino's replacement, but Purnell gave the opportunity to the current Video Coordinator, Andy Farrell. Farrell is known as a tireless worker and a co-founder of the Rising Coaches Elite. Purnell then reached out to his former Assistant Shaka Smart's staff at VCU to fill Farrell's old position. Matt Fleming was subsequently hired as DePaul's new Video Coordinator.
New Faces Arrive on Campus
June 13, 2011
– As DePaul's summer semester began the incoming freshman were given an opportunity to arrive on campus early and prepare for the transition to college. All six of Purnell's first full class recruits, Macari Brooks, Jamee Crockett, Shane Larkin, Derrell Robertson, Montray Clemons, and Charles McKinney arrived on campus as expected.
June 20-21, 2011
– DePaul held it's second annual team camp under Coach Purnell. It was a great opportunity for the staff to recruit and network with some of the top local players and coaches. A few players emerged at the event including Cliff Alexander, Johnnie Vassar, and Gavin Schilling, who were all later offered a scholarship.
Shane Larkin Leaves DePaul
August 4, 2011
– In what was likely the most surprising turn this off-season, highly touted freshman guard Shane Larkin was granted a medical release citing medical reasons requiring him to be closer to his Florida home. The exact medical reason for Larkin's departure was never disclosed, but rather speculated. He has since transferred to the University of Miami, Florida under new Head Coach Jim Larranaga. Larkin, who was expected to contribute in at least a backup guard role, created a new need at point guard for the upcoming season.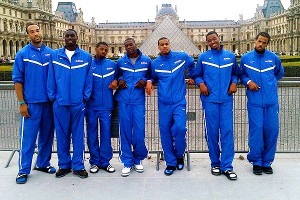 August 11-21, 2011
– The most anticipated part of the 2011-12 off-season for DePaul fans was the team's trip to France to play in four exhibition games overseas. Even more valuable, the trip allowed the team to practice for ten days prior to their departure, which resulted in approximately 20 practices. The trip was more successful than most fans predicted with the Demons leaving with a perfect 4-0 record. Reining Big East Rookie of the Year, Cleveland Melvin, was the most productive Demon averaging 23.74 PPG, 11 RPG, 3.75 BPG, and 2 SPG. Jeremiah Kelly contributed with 15.25 PPG and Brandon Young with 15 PPG.
DeJuan Marrero Commits to DePaul
August 30, 2011
– DeJuan Marrero's commitment came just before the fall open season for recruiting. After an unofficial visit, the Gary, Indiana native from Bowman Career Academy offered a verbal commitment to Purnell. Marrero's career has been highly publicized due to his early success. He did not emerge as the star some had predicted, but there is little doubt that Marrero will be a contributor at DePaul. The 6'5 forward has an endless motor, terrific rebounding skill, and the athleticism to be a terror in the Purnell's press. He'll continue to refine his perimeter game and is expected to play the wing when he arrives on the Lincoln Park campus.
September 2, 2011
– Purnell and his staff quickly recognized the need at backup point guard that emerged after Larkin's departure. Their resolution was to reach into the Junior College ranks and offer a scholarship to Worrel Clahar. Clahar originally reigns from Brooklyn, NY, but spent the last two seasons at Lawson State Community College in Alabama. Clahar should contribute in a backup role, and his athleticism, including a 43' vertical, has already led to him being included as a contestant in the Blue Madness Dunk Contest.
Pittsburgh and Syracuse Join ACC
September 18, 2011
– Long rumored instability of Big East football and a search for the Bowl Championship Series (BCS) cash cow led to Pittsburgh and Syracuse applying for membership to the Atlantic Coast Conference. Syracuse, a charter member, and Pittsburgh caused a fury of speculation amongst basketball enthusiast. Both schools are major powerhouses in the best college basketball conference, and their loss does hurt the Big East's reputation. Texas Christian University followed by negating their commitment to join the Big East beginning in June 2012 and instead opting for the Big 12. Now the Big East is expected to extent offers to additional members in an attempt to save their BCS automatic qualifying bid.
September 27, 2011
– "DePaul is looking for a shooter" could be headline since Drake Diener left DePaul. While Moses Morgan showed strides of providing some stability from the perimeter at the end of last season, Purnell was in search for an additional shooter. Some analysts see Price, who rains from Detroit Country Day and The Family AAU team, as one of the best shooters in the 2012 class. At 6'7 he'll have to improve his driving ability and defense, but he will have plenty of opportunities to display his range due to turnovers caused by Purnell's full court press.
Jabari Parker Visits DePaul
October 10, 2011
– On the week of Blue Madness and the beginning of the 2011-12 season, DePaul had their most highly acclaimed visitor of the off-season. Parker, the number 1 recruit in 2013 by nearly every recruiting website, from Simeon Academy and Mac Irvin Fire, joined fellow AAU teammate and friend Billy Garrett Jr. for an unofficial visits. Don't begin to believe this is Parker's first time on campus, but rather is a reminder of the progress Purnell and staff are making on improving DePaul's reputation.
So what stood out to you most about DePaul's off-season? Anything I missed?
-- Next Up: What we learned from Blue Madness and Open Practice - -